The Game Room (also known as Classic Game Room Mark 1) was a Internet television show that broadcast on FromUSAlive.com. Over 80 episodes were produced of the show and it got quite a cult following, however, in early 2000 the show had to be cancelled as it was not making any money and the dotcom bubble had burst.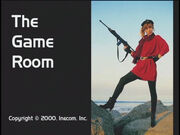 Origins
[
]
The Game Room began in 1999 when two men, Mark Bussler and David Crosson sat down in front of a table and reviewed two video games: "Driver" and "Metal Gear Solid: VR Missions". the idea for The Game Room began when Mark and Dave met in Film School, and realised they both liked video games. when Mark started to work at FromUSALive.com, Dave joined him and the show was started.
Closure
[
]
In early 2000, The Game Room was cancelled when FromUSALive.com went bust. The last review was Tokyo Extreme Racer 2. Fans eagerly waited for a new episode but one didn't come until 2008 when Inecomcompany joined the video sharing site "YouTube "