Tempest 2000 is a 1994 fixed shooter released on the
Atari Jaguar
.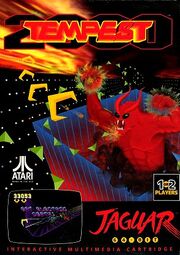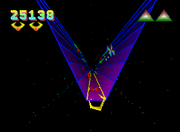 Dave
notes that it's the 50th Episode.
Mark
then jokes that the show has become so profitable, they've been sent on a two month paid vacation to Jamaica. They note back in '94 that the year 2000 must have seemed a long time away, but anything that happens in the game hasn't happened in real life. Mark then notes that Atari has a trademark with Melt-o-vision
™
. They say that when they ruined the Jaguar, they were told to play this game. They note that it has different game modes. They recommend it.
The Game Room: Alternate Cut
Edit
The review is exactly the same, but the studio segments are different.