Streets of Rage (or Bare Knuckle: Furious Iron Fist) is a game released in 1991 for the Sega Genesis/Mega Drive. It is a Beat 'em Up.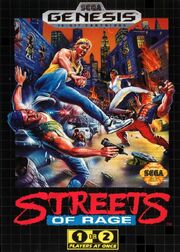 On the 17th August 2000, The Game Room reviewed Streets of Rage.
Mark
praised the graphics, as it set's the stage as dark and urban. He also said it was a better version of
Double Dragon
.
Dave
joked that it was a more advanced version of
Gekido
, and loved the cop cars with bazooka's. They want the return of games like this.