The Playstation 2 is a video game console released in 2000 by Sony. it is the successor to the Playstation 1. it stopped production at the end of 2012.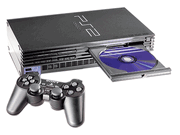 The Game Room was getting ready to review some Playstation 2 games but tragically the show stopped production just before the system was released.
Mark has reviewed many different units, the Playstation 2 SCPH-30001, Playstation 2 SCPH-79001 and the Playstation 2 SCPH-90000.