Obi-Wan Finale - The Loop
Play Sound
The Sony Playstation 1 was a video game system developed by Sony. It was released in 1994.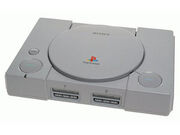 The PS1 is one of the best selling consoles of all time (selling over 102 million units), and was succeded by the Playstation 2. Before Mark reviewed the console, but many games have been reviewed due to the fact they play on the Playstation 2 and Playstation 3, can be downloaded from Playstation Network and can be also played on Playstation Portable and PS Vita via remote play.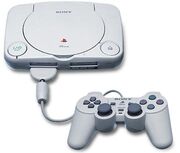 Many PS1 games were reviewed on The Game Room , included Metal Gear Solid: VR Missions and Driver, which were the first episodes released. Mark And Dave prefered the PS1 over the Nintendo 64, but like every console on The Game Room, it was never reviewed. 
Mark has reviewed two versions of the Playstation 1, the PlayStation and The PSone. However these were not reviewed until 2014, before that the games were reviewed on either the Playstation 2 or Playstation 3.