Sega Rally 2 is a 1999 Racing game released on the
Sega Dreamcast
.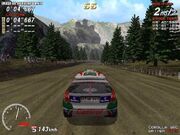 Dave
said that it started out as an Arcade game. They then explain the gameplay.
Mark
said he didn't play it with the vibration pack. Dave notes it's consistantly 60FPS. Mark said Sega was good a fading the background in and it's the best looking driving game, but he didn't like the two player mode. Dave said he likes the replays. They recommend it.
Community content is available under
CC-BY-SA
unless otherwise noted.