The Sega Genesis (Mega Drive in the rest of the world), is a Video Game Console released in 1988 by Sega. It is
Mark
's favourite console, as he owns 4, The Model 1 (Modded with S-Video), the Model 2, Model 3 and Mega Drive Model 1.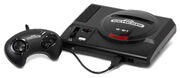 The Game Room featured a lot of the console, but never reviewed it. They did say however, that if you didn't know what the console was you would burn in hell.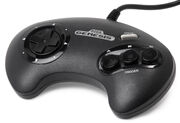 Mark has reviewed pretty much every variation of the console, The
Model 1
, with (
S-Video Modification
),
Model 2
,
Model 3
, 
Mega Drive
, 
Nomad
 and
AtGames Clone System
. However, it should be noted that there are certain models he has not reviewed. The JVC X'eye (although it may have been seen in a video), The CDX, Pioneer LaserActive, and the Amstrad Mega PC. It is also unlikely, even due to the show's never ending mission of reviewing everything that the
Sega Neptune
will ever be reviewed.