Mark Bussler is the host of Classic Game Room and was the co-host on The Game Room.
The Game Room and Documentaries
[
]
Mark was one of hosts on The Game Room along with Dave, but when The Game Room was cancelled in 2000, Mark started to work at Inecom, making Historical Documentaries. However in 2007 Mark was thinking of ideas for the next documentary and went through the backlog of tapes that Inecom had inherited from FromUSALive.com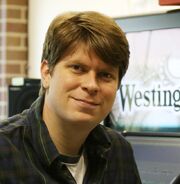 and found a original Game Room episode. He realised that The Game Room was not well known but people who remembered it from back in the day would love to see it back. He also realised that the story of The Game Room was a interesting one and set to work on what would be the Game Room DVD.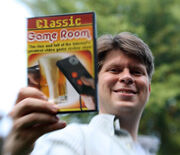 After the DVD was published, he started to work on a documentary called Westinghouse.
Classic Game Room HD
[
]
Mark decided to bring back The Game Room as Classic Game Room, as he was getting bored of making historical documentaries and saw that the popularity of YouTube, the amount of advertising on websites and the growth of high speed internet connections meant that it could return. This eventually got the Channel YouTube partnership and made way for other channels under the CGR Banner.
His favourite game is Truxton for the arcade and Genesis