Kasumi Ninja is a 1994 video game released on the
Atari Jaguar
.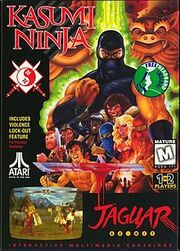 The Game Room
Edit
The Game Room reviewed the 15th March 2000.
Mark
said that Angus is the only redeeming character. 
Dave
 said it was a blatant Mortal Kombat rip off. Most of the review is ripping on the Atari Jaguar due to it's design, techinical specifications and controller. Mark even mentions that he sold the Jaguar for a blender, and still had to pay extra for the blender.