Joust is a 1983 platformer released on the
Atari 2600
.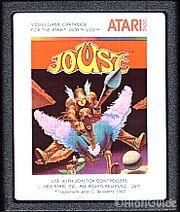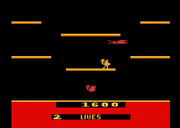 Mark
said it was interesting to see what they had to do to bring it to the Atari 2600. This means it is different to play as the eggs don't land. He did note that the game concept was the same, landing on them with your ass. He also notes that the pterodactyl is in the game, but you lose the flaming hand at the bottom of the screen. He says he wants to review Joust 2 someday along with the Pinball machine. He also notes that it doesn't end the "Thy game is over" when you lose. He recommends it.
Community content is available under
CC-BY-SA
unless otherwise noted.