Halo: Reach is a 2010 First-Person Shooter released on the
Xbox 360
.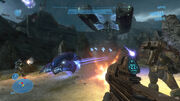 Mark
said that it starts off slow, but ends very strong, with character. He said people will be picking up there jaw from the ground after finishing it. He also said that it has a SHUMP level. He noted that it was prequel to
Halo: Combat Evolved
. He said at some times it suffered from jerkiness. He praised the audio mix. He likes the holograms. He recommended it.
Mark said that the multiplayer works well. He said the interface works well and lots of people are playing. He loves firefight and said it's been improved. He likes the maps. He said that if you like any aspect of Halo, you will love this. He recommends it.
Community content is available under
CC-BY-SA
unless otherwise noted.