The Gamer Grub Performance Snack is a 2010 Accessory compatible with all game systems.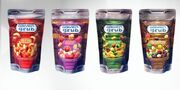 Mark said that gamers can't sacrifice performance or time to make meals while gaming, so Gamer Grub is here. He said that other foods make juices that can damage your controllers. He reviews the Peanut Butter & Jelly and Pizza flavours. He said it has tear 'N' tilt technology. He likes the PB & J flavour. He then tries the Pizza flavour and likes that too. He recommends them.
Community content is available under
CC-BY-SA
unless otherwise noted.