Frogger is a 1983 Overhead view action game released on the
Atari 2600
.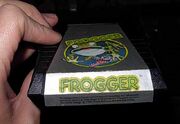 The review starts with both
Mark
and
Dave
shouting "FROGGER!" very loudly. After doing this they look embrassed and stop. We then see gameplay. Mark then tells us that it teaches us how to cross the road, he also notes that because the rivers current and the traffic are going opposite directions right next to each other that the game is unrealistic. Dave notes that the further you go the harder it gets. Mark also notes the frog will drown in water. They recommend it.
Community content is available under
CC-BY-SA
unless otherwise noted.