Derek D. Buck is the host of
CGR Undertow
.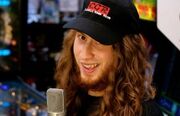 Before Classic Game Room, Derek wrote for many different gaming websites such as GameZone & AceGamez. These can be seen on his website.
Derek then started writing for CGR's website. After these became popular, he was offered the chance to create two video reviews for the channel, Block Party & The Legend Of Zelda: Ocarina Of Time. He still appears in some reviews for the channel, but only when Mark pulls pratical jokes on him & Brandon, such as attacking him with the Tiger Game.com
Mark was impressed with Derek's reviews and the audience figures, however the YouTube audience wanted the main channel to stay Mark only, and so CGR Undertow was born.
Community content is available under
CC-BY-SA
unless otherwise noted.