"Banished from Earth, Classic Game Room broadcasts from the Intergalactic Space Arcade on its never-ending mission to review everything."- Mark Bussler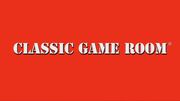 Classic Game Room Mark 2 (also known as Classic Game Room HD and Classic Game Room) was a show produced on the video sharing site YouTube by Mark Bussler, hosted on the Inecomcompany channel. (The channel is now known as "Lord Karnage" due to Google+) The first review was Zaxxon for the Atari 2600. Over 3000 episodes have been produced, almost daily, since 2008. The show was born from the success the original Game Room episodes had on Youtube, and the fact that Mark couldn't think of another documentary to do. In late 2013, due to YouTube's content ID system getting revamped, lots of Classic Game Room videos (and the wider gaming community) started getting Copyright Matches, even if the reviews were classified under fair use. Mark then decided to make everybody go to the website for the reviews, and embed the videos on there using Dailymotion. On May 10th 2014, the videos returned to YouTube. Episodes are usually released Monday - Saturday, although occasionally if there is a backlog, they will also be released on a Sunday. The last review posted was Alex Kidd in Miracle World for the Sega Mark III, although the last video under the Mark II banner was the 2015 Game Of The Year award show. On January 7th, CGR Mark III launched a kickstarter, and the next day, it launched.
Community content is available under
CC-BY-SA
unless otherwise noted.