The Atari 7800 ProSystem is a 1986 games console released by Atari.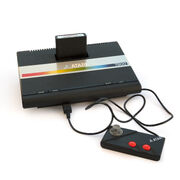 As with all Game Room episodes, they never reviewed the system, but did say that they liked it.
Mark says if you ever want a Atari, you should go for a 7800 as they are newer and more reliable. It also plays 2600 games. Although Mark reveals that he got a 7800 instead of a NES when he was younger, he still doesn't regret it. He said it has a great game library. He hates the North American controllers and says you should get the European controller (seen in the picture). He recommends it.